UN development index
India ranks 129 out of 189 countries on the 2019 Human Development Index (HDI) — 130(2018.).
The HDI measures average achievement in three basic dimensions of human development — life expectancy, education and per capita income.
Norway, Switzerland and Ireland occupied the top three positions in that order.
Among India's neighbours, Sri Lanka (71) and China (85) are higher up the rank scale while Bhutan (134), Bangladesh (135), Myanmar (145), Nepal (147), Pakistan (152) and Afghanistan (170) were ranked lower on the list.
Anglo- Indians in Lok Sabha and Assemblies
Anglo-Indians are unlikely to be nominated to Lok Sabha and state Assemblies from now on with the government recently introducing a bill to amend the Constitution seeking to not to extend the provision that is in place for the past 70 years but expires in January next year.
Article 334 has laid down provisions for reserving the seats for SCs and STs and nomination of Anglo-Indians to Lok Sabha and state Assemblies, which shall cease to be in effect on the 25 January 2020.
Under article 331; the President of India is authorised to nominate 2 members of the Anglo Indian community if know member of this community is elected among the 543 members for the Lok Sabha.
The governor of the state is authorised to nominate 1 Anglo Indian in the lower house of the State Legislature in case of under representation.
Anglo- Indians :-a person whose father or any of whose other male progenitors in the male line is or was of European descent but who is a native of India
6th Schedule of the Constitution
The centre has asserted that the Citizenship (Amendment) Bill, 2019 has been tweaked so that states where the Inner Line Permit (ILP) is applicable, and tribal areas of Assam, Meghalaya, Tripura and Mizoram that are notified under the Sixth Schedule of the Constitution would be kept out of its purview.
Under Article 244, it deals with the administration of the tribal areas in the four northeastern states of Assam, Meghalaya, Tripura and Mizoram.
Passed by the Constituent Assembly in 1949, it seeks to safeguard the rights of tribal population through the formation of Autonomous District Councils (ADC).
The governor is empowered to organise and re-organise the autonomous districts.
Skills Build Platform
It is a digital platform developed by IBM enabling holistic learning and aligning it with Skills India initiative by Government of India.
Launched by Directorate General of Training (DGT), under the aegis of Ministry of Skill Development & Entrepreneurship (MSDE).
As part of the programme, a two-year advanced diploma in IT, networking and cloud computing, co-created and designed by IBM, will be offered at the Industrial Training Institutes (ITIs) & National Skill Training Institutes (NSTIs).
Students will also receive recommendations on role-based education for specific jobs that include technical and professional learning.
Land Boundary Agreement (LBA)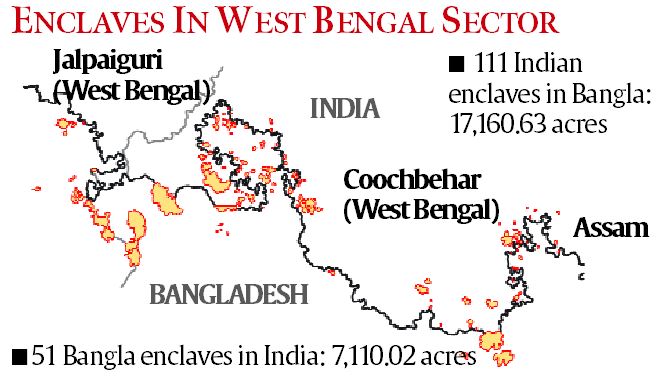 More than four years after the historic Land Boundary Agreement (LBA) between India and Bangladesh, a report released by civil rights organisations on the situation in erstwhile enclaves states that protest and resistance have become an essential part of their survival in India.
Under the Land Boundary Agreement between, the Bangladeshi enclaves in India and Indian enclaves in Bangladesh were transferred on July 31, 2015.
The agreement involved handing over 17,000 acres of land to Bangladesh in return for 7,000 acres in 162 enclaves in West Bengal, Assam, Tripura and Meghalaya.
It also required an amendment to the Constitution.
U.S. International Commission on Religious Freedom (USCIRF)
In the wake of the passage of the Citizenship Amendment Bill (CAB) in the Lok Sabha, USCIRF has expressed concern over it and considered recommending sanctions against Home Minister Amit Shah and other top leaders.
The USCIRF is an independent, bipartisan US federal government commission- an advisory body, which advises the US Congress and the administration on issues pertaining to international religious freedom
It often takes maximalist or extreme positions, and has been used by civil society groups to put pressure on US Congress members and administration officials.
Rashtriya Vayoshri Yojana
It provides free of cost 'assisted-living devices' which can restore near normalcy in their bodily functions to Senior Citizens, belonging to BPL category and suffering from any of the age related disability/infirmity Low vision, Hearing impairment etc.
This is a Central Sector Scheme, fully funded by the Central Government.
Beneficiaries in each district will be identified by the State Governments/UT Administrations through a Committee chaired by the Deputy Commissioner/District Collector.
As far as possible, 30% of the beneficiaries in each district shall be women
Gandhipedia
The Government is developing 'Gandhi Encyclopedia' to spread awareness in the society.
Ministry of Culture has approved a project for development of GandhiPaedia by National Council of Science Museums, Kolkata.
The objective of the initiative is promotion of Gandhian philosophy and thoughts through social media platforms
current affairs , prelims booster