Gulf co-operation Council (GCC)
The GCC is a political and economic alliance of countries in the Arabian Peninsula.
It was established in 1981 to foster socioeconomic, security, and cultural cooperation.
Bahrain, Kuwait, Oman, Qatar, Saudi Arabia, and the UAE are its members.

Gulf co-operation Council (GCC)

Regional Comprehensive Economic Partnership (RCEP)
Context: Stakeholders' Consultations by Department of Commerce on RCEP.
members-16 {Ten member states of the Association of Southeast Asian Nations (ASEAN) (Brunei,Myanmar, Cambodia, Indonesia, Laos, Malaysia, the Philippines, Singapore, Thailand, Vietnam) and the six states with which ASEAN has existing FTAs (Australia, China, India, Japan, South Korea and New Zealand).
RCEP negotiations were formally launched in November 2012 at the ASEAN Summit in Cambodia.
7th RCEP Inter-Sessional Ministerial Meeting is being held in Cambodia.
RCEP aims to boost goods trade by eliminating most tariff and non-tariff barriers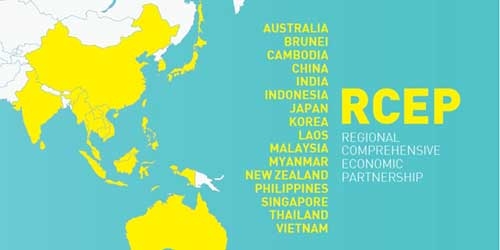 Regional Comprehensive Economic Partnership (RCEP)
The James Webb Space Telescope, also called Webb(JWST)
It is a large, space-based observatory, optimized for infrared wavelengths, which will complement and extend the discoveries of the Hubble Space Telescope

It is only at infrared wavelengths that we can see the first stars and galaxies forming after the Big Bang.

James Webb

This space-based observatory is named after James E. Webb (1906- 1992), NASA's second administrator. Webb is best known for leading Apollo, a series of lunar exploration programs that landed the first humans on the Moon
Swatantra Sainik Samman Pension Scheme
context-The Supreme Court has slammed the Centre for harassing a 90-year-old freedom fighter who was struggling to get his pension under Swatantra Sainik Samman Pension Scheme.
It provides pension to freedom fighters and families of martyrs
Implemented by Ministry of Home Affairs (Freedom Fighters Division)
National Agricultural Cooperative Federation of India Ltd. (NAFED)
Context

: Government to substantially increase the daily supply of onions from its buffer stock held with NAFED.

established in 1958, is registered under the

Multi State Co-operative Societies Act

.

It promotes Co-operative marketing of Agricultural Produce to benefit the farmers

.
Composite Water Management Index (CWMI)
Context

:

NITI Aayog

has released its report on

Composite Water Management Index (CWMI)

.

It's aims

to create awareness among people and governments about the realities of water crisis in the country

.
Composite Water Management Index (CWMI).
India-Bahrain ties
context-PM Narendra Modi paid a state visit to Bahrain on 24-25 August 2019,

which was the

first ever Prime Ministerial visit

from India to Bahrain.

enhance

cooperation in the field of security, counter-terrorism

and the exchange of intelligence and information

India launched the

renovation of Shree Krishna temple

in Manama, the oldest in the Gulf region.

established around 1817 and was built by Thathai Bhatia Hindu community

MoU was also signed between BENEFIT, a Bahrain company handling ATM and POS transactions among others, and National Payments Corporation of India (NPCI) for

launch of RuPay card in the Gulf Kingdom

.
Akademik Lomonosov :
-Russian powership to be operated as the world's first floating nuclear power station
current affairs , micro notes , prelims booster